Copper Gaskets
Copper Gaskets have many important applications. Copper is a material that can be worked to create a desired thickness to provide a perfect seal between parts of a machine. Copper is also a material that is excellent in applications that have high amounts of heat as it will not break down and cause damage to the machine.
Apex Die and Gasket specializes in the production of copper gaskets. Since 1989, we have been producing copper gaskets for a wide variety of uses. Our first step with every client is to carefully listen to the purpose of the copper gasket so that we fully understand the demands that are going to be placed on it. With the experience in copper gaskets that we have, we will be able to make recommendations that could improve upon the design giving you a more productive copper gasket.
In order to produce the copper gasket, we will design and construct a high-quality steel rule die. At Apex Die and Gasket, we build our steel rule dies with maple bases and hardened steel that is manufactured to give a clean and accurate cut. All of our steel rule dies are built to maximize the yield of the copper and last for a long production run reducing the cost of copper gasket production.
Copper Gaskets for Artists
One area that we have produced a lot of die cut copper for is artists. These artists love the high-quality pieces that we produce that are consistently the same size and thickness. This gives artists the ability to keep the quality of their creations consistent for mass production.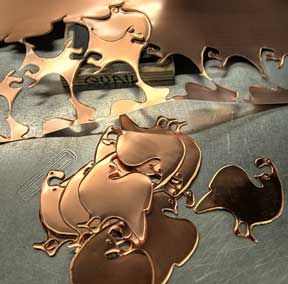 Contact Apex Die and Gasket
Call Apex Die and Gasket today to learn how we can help you in the development of copper gaskets. In the Phoenix Metropolitan area, call us at 480-894-1112. You can also reach us with any copper gasket questions through our Contact Us page.