Plastic Gaskets
Plastic gaskets are extremely adaptable to a great many uses. They can be used as very thin shims between products or the plastic can be die cut into a wide variety of shapes. Adhesive products are often die cut as it provides a very clean cut to the desired shape.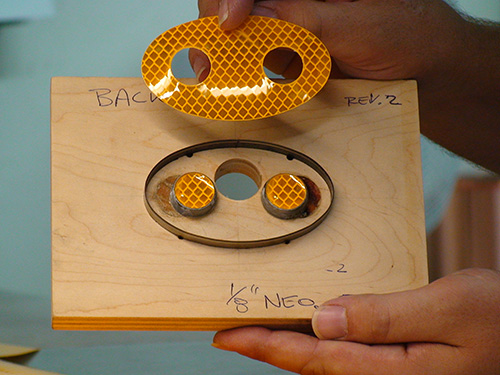 Apex Die and Gasket is very skilled in the production of plastic gaskets and die cut plastic. Our many years of experience gives us an advantage when developing die cut plastic products and gaskets. When a customer comes to us with a request for die cut plastic products or gaskets, we take the time to understand the desired use that they want to achieve. At that point, we make recommendations to the type of plastic to use to achieve those goals. Through this consultation process, we will also be able to develop concepts for the steel rule die that will be necessary to cut the plastic. The steel rule die will be designed of the highest quality materials including a maple base and hardened steel. This construction ensures a die that will have a long production life. The steel rule die for cutting the plastic will also be designed to achieve the highest yield possible from the materials.
At Apex Die and Gasket, we have created die cut plastic products for a great many industries. Some of the industries that we have worked with include:
Aerospace
Manufactures
Material Distributors
Assembly Plants
Artists
Inventors
OEM Industries
Electronics
Types of Plastic Gaskets
At Apex Die and Gasket, we have access to a wide variety of plastic materials. Here are some of the plastic products that we use when creating die cut plastic products or gaskets.
ABS
G-10
Nylon
Lexan
Polycarbonate
PVC
UHMW
Styrene
Flexible Vinyl
Rigid Vinyl
G-10
Fishpaper
Polyimide Film
Coroplas
Contact Apex Die and Gasket
Call Apex Die and Gasket today to learn how we can help you in the development of die cut plastic products and gaskets. In the Phoenix Metropolitan area, call us at 480-894-1112. You can also reach us with any die cut plastic products and gasket questions through our Contact Us page.